Please share the below announcement with anyone who may be interested in interning with the Coalition for the Upper South Platte as a Forest Health Intern.
Click here to see the announcement document in PDF format.
Forest Health Internship with the Coalition for the Upper South Platte
Thank you for your interest in working with CUSP as an intern!  We value your unique perspective and skills and appreciate your personal interest in natural resource management.  We strive to make internship experiences valuable learning opportunities and we are genuinely interested in helping you reach your goals.  The following provides a general outline of the Forest Health Internship, but individual experiences can be modified based on an intern's skills, interests, and schedule.
Job Title: Forest Health Intern
Job Description: The Forest Health Intern will assist with forest health projects throughout the watershed.  The intern will work with the field crew on wildfire restoration and fuels mitigation projects.  These projects are critically important to mitigate life-threatening post-fire flooding and reduce the risk of devastating wildfires in communities.  Fieldwork will include learning to fell trees with a chainsaw, chipping fuels, hillslope re-vegetation, erosion control projects, collecting GPS data, collecting photo data, contractor oversight, and working with volunteers.  The Forest Health Intern will also spend time with our on-staff Forester and Operations Director to assist with forest project planning, preparing for wildfire on a community-wide level, and implementing forest health projects on private and public lands.  In addition to learning about forest health, the intern will also have a chance to explore other aspects of natural resources management of interest and gain insight into the general operations of a highly collaborative watershed nonprofit.
Learning Goals
Interns will understand the challenges of natural resource management and how stakeholders can work together to promote watershed health
Interns will gain a deeper understanding of how forest health work is carried out in practice
Interns will gain on-the-ground experience doing forest health/wildfire mitigation projects and wildfire restoration projects
Certifications and Trainings
Chainsaw operation and safety training
Firefighting training and certification
Other trainings may also be available during the course of the internship
Expected Work Week: 20-40 hours per week, with some weekends required
Expected Duration: June 2 – August 8 (10 weeks)
Compensation: $12 per hour
Location:  Most work will be based out of our office in Lake George, CO and fieldwork will occur throughout the Upper South Platte Watershed and connecting watersheds.
Supervisor: Jonathan Bruno, Operations Director
Preferred Skills and Qualifications: 
Desire to learn more about natural resource management and environmental sciences
Coursework and/or experience in natural resource management, forestry, environmental science, or related discipline
Ability to work in a physically demanding environment, including hiking up steep slopes, handling a chainsaw, and working in exposed, mountainous areas
Organizational skills and the ability to manage multiple projects
Excellent oral and written communication skills
Ability to adapt to changing situations and evolving project needs
Ability to work effectively and professionally as part of a team
Access to personal transportation to get to and from CUSP's office in Lake George
Description of the Coalition for the Upper South Platte (CUSP):  The Coalition for the Upper South Platte is a 501(c)(3) nonprofit organization dedicated to protecting the water quality and ecological health of the Upper South Platte Watershed, through the cooperative efforts of watershed stakeholders, with emphasis placed on community values and economic sustainability.  CUSP collaborates with partners and stakeholders to promote the health of the watershed through projects focused on river and stream restoration, forest health, water quality, habitat and recreation, environmental education, volunteerism, energy, monitoring and assessment, and wildfire restoration and protection. http://uppersouthplatte.org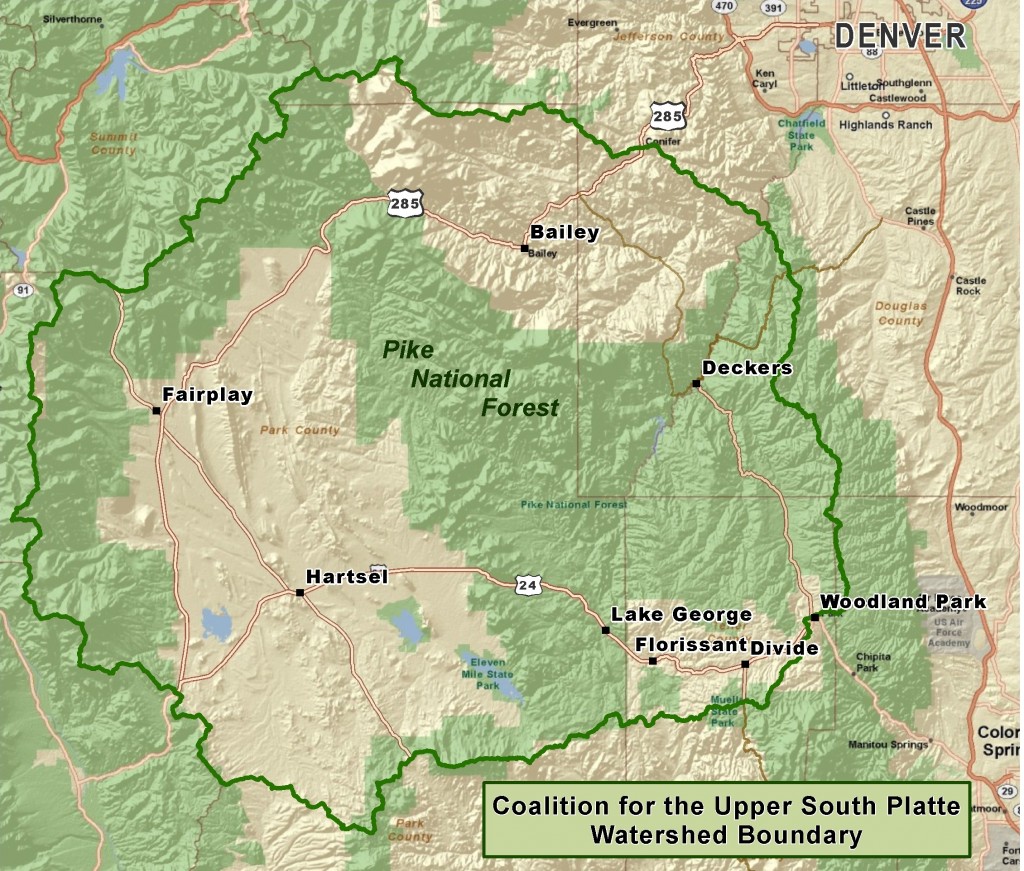 To Apply: Please send a cover letter and resume by email to Amy Jacobi, Communications and Education Coordinator, at amy@uppersouthplatte.org by May 1, 2014